PPC (Pay-Per-Click) advertising through Google Adwords offers business' immediate access to the eyes of potential customers, making it a great complement to Local SEO and On-Page Website SEO services.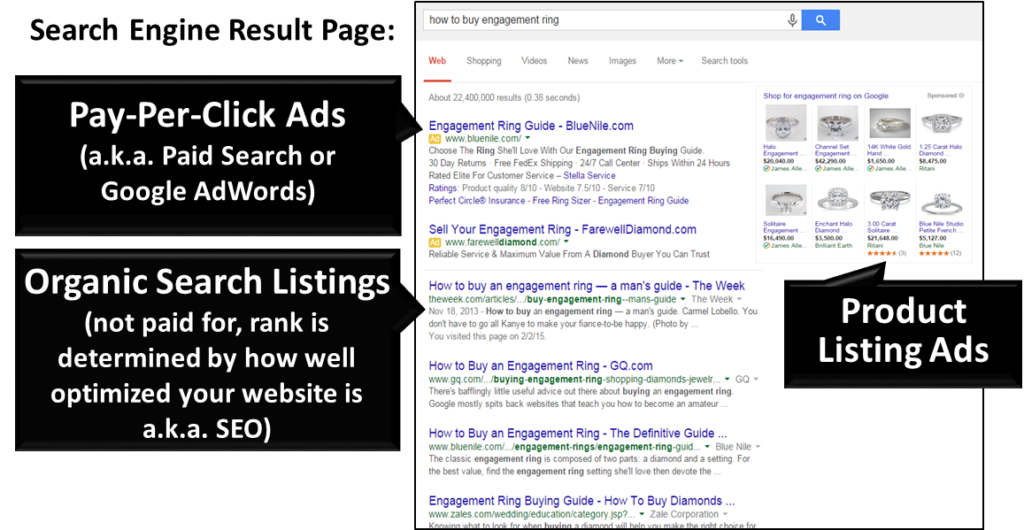 Benefits of PPC / Adwords Advertising
PPC (Pay-Per-Click) advertising offers businesses an instant audience. It is the perfect compliment to Local SEO and On-Page SEO services. One major benefit of PPC is that it offers instant exposure to customers. You have the ability to advertise to your target market by distinct search terms that you choose, and you only have to pay when they express interest in your ad by clicking it.
Instant Exposure: One major benefit of PPC is that it offers instant exposure to customers. This makes it a great complement to SEO, which matures more gradually. We often encourage our clients to allocate a portion of their marketing spend to PPC advertising in order to round out their overall marketing campaign.
Highly-Targeted Advertising: In contrast to traditional advertising mediums, pay-per-click advertising allows you to only spend money for the attention of people specifically searching for what you offer in your service area.
Trackable: Because PPC advertising is pay-per-performance by nature, platforms such as Google Adwords have to provide pretty detailed reporting — after all, that's how they get paid. With PPC, it's easy to know exactly how many visitors your advertising dollars bring to your website, and in some cases further tracking mechanisms can be employed to help you know which of those visitors convert into leads and new business.
Budget Flexibility: With Adwords PPC advertising, there are no term commitments, and your spend can be adjusted at any time. In addition, campaigns can be paused or cancelled at any time, making Adwords one of the most budget-flexible SEM (Search Engine Marketing) tools available.
PPC / Adwords Challenges
Pay-per-click advertising is only as effective as the person managing it. The experience and internet marketing prowess of the individual managing the campaign has a direct impact on the cost-effectiveness of the campaign. This is why many self-managed campaigns result in lost opportunities, time, and money.
How We Help
INFUSEO's services all rely on formulating and executing on an effective internet marketing strategy for each of your business offices. We employ our expertise and technology to determine the most effective use of your PPC advertising spend, and we ensure that your PPC advertising works in concert with your local SEO and On-Page Website SEO, resulting in an effective and cohesive local SEM campaign.
The Right Tools For The Right Solution. Every Time.